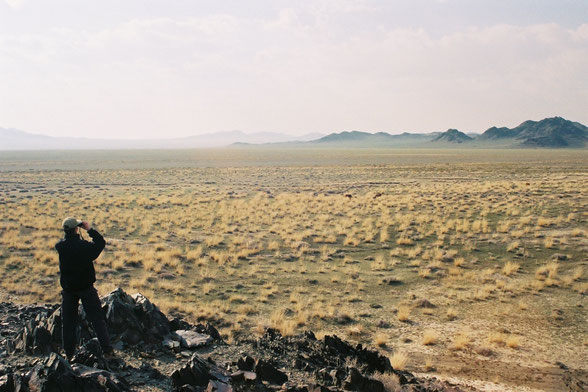 Our research are conducted on the following topics:
* Behavioural ecology of the Mongolian Wild Ass in the south Gobi, especially its watering behaviour, water sources used and importance of access to water for this sub-species;
* Genetic of the Mongolian khulan;
* Nature of interactions between khulans, livestock, wildlife and human activities at water sources, but also in the surroundings;
* Nature of potential threats affecting this species' survival; 
* Nature of interactions and conflicts between people and khulans;
* Difficulties and needs of the local population, and their knowledge concerning the status of the khulan in Mongolia and in this area, its behaviour,  its relationship with livestock and humans, their knowledge about threats affecting the survival of the khulan, how local people view the implementation of such project and management recommendations ...
Information that will be obtained thanks to this research will permit us, in addition to other information obtained from other researchers, to define and implement optimal management recommendations to find a compromise between the long term survival of this sub-species and the attenuation of conflicts between khulans and humans, with respect for the local breeding activities and by considering needs and difficulties of the local population.
Research will be conducted during the different periods of the year. If needed, other topics of research could be also added to this project in the future.
Our research team use trail cameras / camera traps with the objectives to enhance knowledge on the following topics: 
-use of water sources by Mongolian khulans/wild asses and by other species (wild and domestic),
-watering behavior of the Mongolian Khulan,
-nature of interactions between khulans/wild asses, wild and domestic fauna and human activities at and in the surroundings of water sources,
-illegal activities occuring in our study area, 
-biodiversity of our study area.
These camera traps are actually mainly used by our research team as well as by the Little Gobi A and B protected areas' administration to whom we gave a trail camera in 2012. 
During the missions conducted in 2012 and 2013, we have found some appropriate places where we could again settle our camera traps in the near future. These camera traps will allow us to collect very important and reliable information that will be used as part of our program to protect the endangered Mongolian Khulan and its habitat. 
In the near future we wish:

1) to obtain further trail cameras that we will settle in different strategic places of our study area;
2) to leave all over the year some trail cameras to rangers and staff working in protected areas and partners of our organization, as well as to volunteer rangers and to citizen scientists working with our organization. By setting up several trail cameras in several places of our study area all over the year, it will help us collect a high number of important and reliable data essential for our conservation program, and will help reinforce involvement of rangers and citizen scientists in our research and conservation program. 
First video of Mongolian wild asses/Mongolian khulans, drinking in early morning (05:13 a.m) at watering holes made by khulans at a dry river bed to access to water located underground.
This video has been obtained in July 2012, in the southeast Gobi, thanks to a trail camera (BUSHNELL Trophy Cam) used by Anne-Camille SOURIS as part of her research on the Mongolian Khulan behavioral ecology. The original video duration is 60'. 
During the field trip conducted for 3 weeks in our studay area by Anne-Camille SOURIS, in June 2013, trail cameras have been again used as part of our research program.  
Because it has been difficult to find and observe khulans during this field trip, only few photos were obtained. However, the photos that Anne-Camille obtained will provide us with very important information that will also complement information we obtained in 2012.
Thanks to this field trip we have been also able to determine some important and pertinent places where to set up again our trail cameras in the near future.
To know more about information we collected with our trail cameras in 2013
---
If you wish to support this project with a donation, follow this link for more information : Support  
1 trail camera of the BUSNELL trademark (like the trail cameras we use since 2012), batteries, protection box, memory cards, and equipment to settle the camera cost about 1 000 Euros / 1,250 USD.
We also need financial support to provide rangers and citizens scientists working with us with: gas, equipment, daily expenses and salary.